What Are Personal Life Saving Appliances On Sea
Life saving appliances refer to instrument, devices and tools that protect human life at sea. They are documented as part of the International Convention for the Safety of Life at Sea, or SOLAS Convention.
Ships and other vessels carry life saving appliances mad up of lifeboats, lifebuoys, lifejackets, life rafts and many others. Passengers and crew have to be informed of their availability in case of emergency. Life-saving appliances are obligatory as per chapter 3 of the SOLAS Convention. The International Life-Saving Appliance (LSA) Code gives distinct technical requirements for the production, maintenance and documentation of life-saving appliances.
Their number differs from vessel to vessel, and the code prescribes a minimum requirement to abide by in order to make a ship seaworthy.
Lifejacket
A basic personal safety tool when leaving the ship/falling into the sea. Prevents a person from drowning due to tiredness or fainting. Their buoyancy comes from either solids or blown air. They are orange in colour, resistant to oil and flame effects for up to two seconds. They are equipped with a whistle, light and retroreflective markings. Their buoyancy allows for a passive person's mouth to be 12cm above level in still water. With a vest, one can swim (shorter distances) and move (boarding a lifeboat).
The inflatable vest has two chambers. Each allows sufficient buoyancy. It is inflated from a pressure vessel or mouth. If there is light (the source is a battery that is only activated in seawater – the circuit is closed), it must be lit for at least eight hours.
There must be a sufficient number of vests on board for all passengers and crew + some extra. The vests must be located in accessible places, clearly marked.
Lifebuoys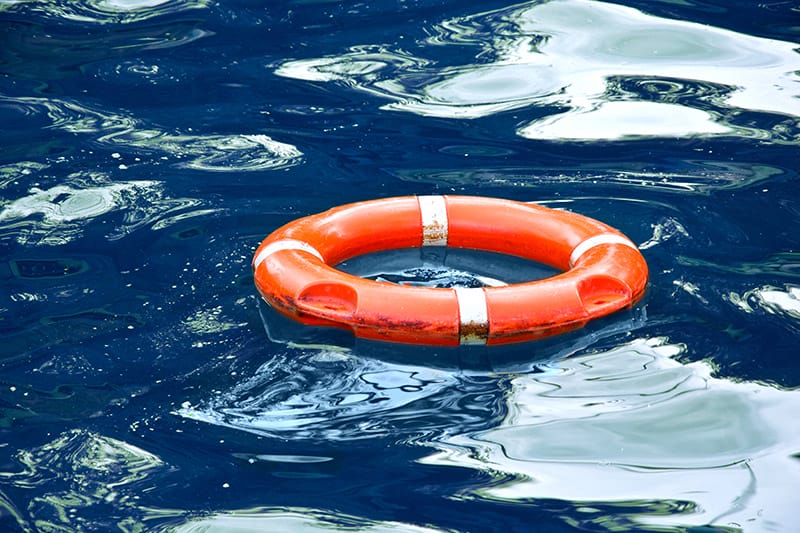 Lifebuoys  are used to prevent people from drowning in the sea. They also mark the position in the sea very well. They are evenly spaced on both sides of the ship and are not attached. At least one buoy on each side is equipped with a rescue rope (twice as long as the height of its location; at least 30m). At least half of the buoys have a light (which illuminates continuously or flashes for two hours). At least two lifebuoys with light are equipped with smoke signals (which smoke for 15 min). The weight of the buoy must not be less than 2.5 kg. The name of the ship and the port of entry must be written on each belt in Latin.
Rescue Suit
It is used for protection against cold or heat. There are two types: one worn beneath a lifejacket and the other with its own buoyancy. The latter must meet all the requirements prescribed for vests.
The cold-water suit is made of waterproof material. It is also flameproof for up to two seconds. It covers the whole body except the face. If the suit has its own buoyancy, it must have a light and a whistle.
On board, all crew members of the collection vessel are equipped with a rescue suit, that is, all crew members operating the ship's urgent departure system. On board the passenger ships, apart from these, there are three other life-saving suits located on the lifeboats