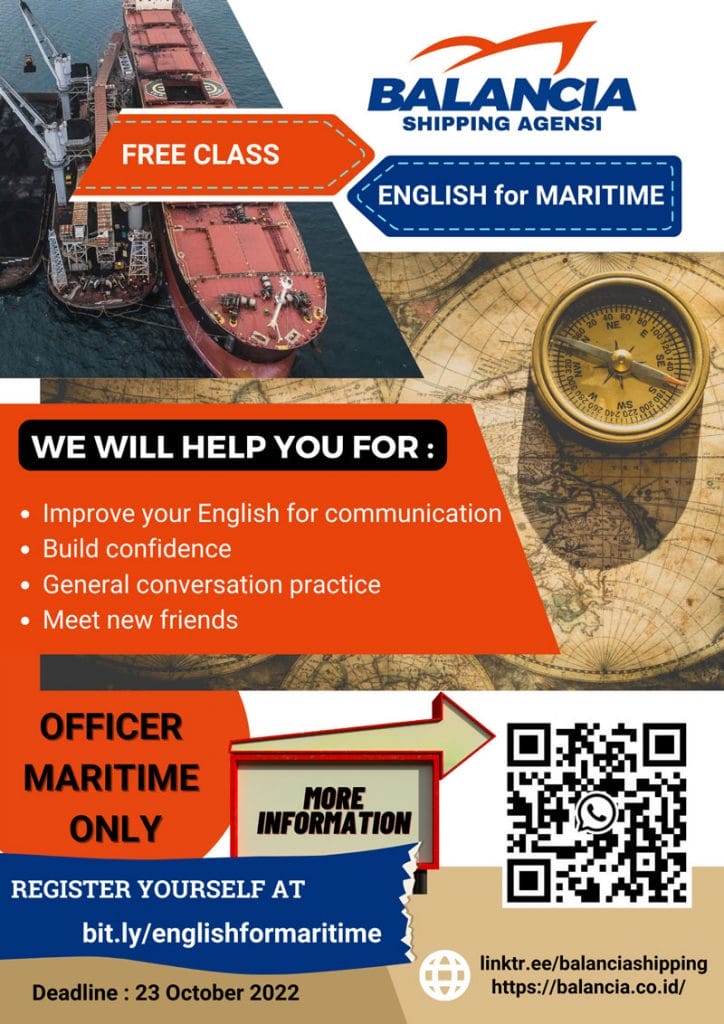 Hi seafarers !
Feel English is important in the world of work? Want to be able to speak fluently without hesitation Or want to be a global worker who can go anywhere?
This is a great time for seafarers, especially officers! Balancia Shipping Agency arranges the Maritime English Class that provides free English classes for seafarers who have a strong desire and commitment to learn and dare to start speaking  English.  Don't  worry,   in   this   class  we  will   learn   from  the basics  and  proceed together.
Here, we will help you for ; 
Improve your English for communication
Build confidence to speak English for beginners
General conversation practice
Meet new friends and families
The   class   will   start   on   28th   October,   2022,   so   don't   hesitate   to   register   yourself   at bit.ly/englishmaritime before 25rd of October, 2022. 
More information : 
Whatsapp +6285225679102
linktr.ee/balanciashipping
BALANCIA SHIP AGENCY
HQ Address : Komplex Ruko Golden City Block C No.3A, Batam City, Indonesia 29432
www.balancia.co.id
Mobile Ph. : +628112929654
Office Ph. : +627784883769